5G DOME ROUTER
Installation
Do you know that the DOME router system is very easy to self-install? All you need to do is run one network cable from the location of the dome to the ship's network.
A network cable is very flexible and, as a result, easy to run.
The system can take either AC or DC power (that is usually available inside existing VSAT and TVRO domes).
Speaking of which – you have two options for installation: you can install the dome as a standalone solution, or you can also install a panel version of the system into one of your existing domes. You would then have 4 small panels (280 x 150 x 30 mm each) that you would attach to the inner sides of your dome. That dome would remain operational for its original purpose as well.
For example, M/Y Ragnar installed the dome system inside this dome: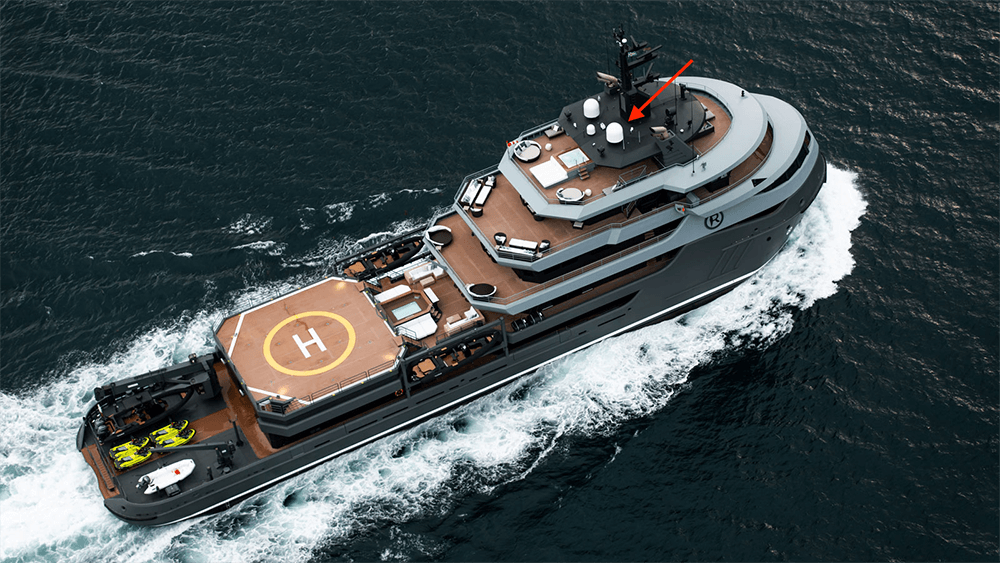 You can take a look at a video of an installation done inside a VSAT dome here:
The dimensions of the panels: 275 x 145 x 31 mm each.
There are 4 per DOME system.
Mounted either vertically or horizontally near the dome's base. Thus, they will not interfere with the VSAT dish/ BUC.
Control Router: 220x170x76mm (mounted flat in the dome's base).
Cabling required: Ethernet to the ship's firewall: Cat6A or Cat7 S/FTP. Has to be S/FTP (shielded).
Power: 160W peak load. DC 12V, 12A (3x4sqmm) or AC 100V..240V (3×1.5sqmm)
For installing Panel Version there should be at least 10cm clearance between the dish and the dome cover, to keep the dish fully operational.
Modems:
4 x 4G/5G modems (LTE-A-Pro) with 3G fall back (based on Qualcomm Snapdragon X55)
(Power Class 2, max. TX power 0.4W)
MAXIMUM SPEED per modem:
Download: 2.0 Gbit/s per modem, 7xCA, max. Modulation 256QAM
Upload: 211 Mbit/s per modem, 2xCA, max. Modulation 256QAM
SUPPORTED RF BANDS (Wordwide Coverage)
Technology
Bands
Diversity Connection
3G
B1, B2, B4, B5, B8, B19
Yes
4G LTE-A-PRO
B1-B5, B7, B8, B12-B14, B17-B20, B25, B26, B28-B30, B32, B38-B43, B46, B48, B66, B71
Yes (4x4MIMO)
5G
n1, n2, n3, n5, n7, n8, n12, n20, n25, n28, n38, n40, n41, n48,n66, n71, n77, n78, n79
Yes (4x4MIMO)
3G
B1, B2, B4, B5, B8, B19
4G LTE-A-PRO
B1-B5, B7, B8, B12-B14, B17-B20, B25, B26, B28-B30, B32, B38-B43, B46, B48, B66, B71
5G
n1, n2, n3, n5, n7, n8, n12, n20, n25, n28, n38, n40, n41, n48,n66, n71, n77, n78, n79
Technology
Diversity Connection
4G LTE-A-PRO
Yes (4x4MIMO)
Click here to see in what domes motoryachts like Kaos, Savannah, Ragnar and other yachts installed the system